Soloist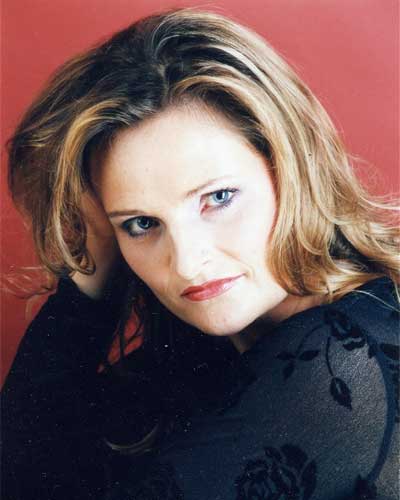 Denisa Neubarthová
Mezzo-soprano
Denisa Neubarthová is from a very musical family.
Educational way goes from Conservatory Teplice to master class of Prof. Slavícková to Prague.
As a concert soloist she performs in a lot of european metropolis. She was succesfull by many productions: f.e. Viennese public opera production in operetta "Viennese blood" (Johann Strauss) in German Theatre in Munich.
She was invited as soloist for different orchestra-tours with compositions of B. Britten, A. Dvorak, G. Mahler, W.A.Mozart and A. Zemlinsky.
She sang with world-known René Kollo in 9 .symphony of L.v. Beethoven (1997 -Tonhalle in Zurich).
In 1999 - 2000 she interpreted the solo parts from 2. and 3. symphony of Gustav Mahler with Hungarian Philharmonic Orchestra in Debrecen.
Summer 2001 she got very good commendatory critique in swiss press: Czech mezzosopranist is a big mistress in her domain.
In october 2001 she were invited to Switzerland again, where she performed in two concerts in Fribourg and Gruyeres. Programm: Altrapsodie for alto, male choir and orchestra (Johannes Brahms).
Her repertoir contains oratorios and liturgy pieces too.
Big passion of her became the recital.
In 2003/04 - 2004/05 she was invited to recitals in Germany and France and to live show in television France 3 (pieces from B. Britten and L. Janácek).
2006/07 recitals in Germany, France and Czech Republique.

Perrine Madoeuf
Sopran
BERUFSERFAHRUNG / EXPERIENCE PROFESSIONNELLE
1995 Gretel et Hansel – Humperdinck/ Gretel, marchand de sable(mise en scène Stefan Groëgler)
production Opéra de Lyon, TJA, amphithéâtre de l'Opéra Bastille
2000 Juditha Triumphans – Vivaldi / Abra (mise en scène Jean Louis Martinoty)
Opéra de Montpellier
2003 Le dialogue des carmélites – Poulenc / Soeur Constance
Tournée région RhôneAlpes
2003 Cosi fan tutte – Mozart / Despina
Palais des congrès, Lyon
2004 Concert Mozart de la fondation Orpheum
Tonhalle, Zürich – The age of enlightenment
2005 Bernstein project (mise en scène Philippe Sireuil)
Opéra de Anvers, Gand et Bruges
2008 Gala airs d'Opéras
Opera de Hanoi, Vietnam
2008 La Traviata – Verdi / Violetta
Salle Molière, Lyon
2008 West side story – Bernstein / Maria
Amphithéâtre 3000, Lyon – Orchestre symphonique Lyonnais
2009 Le sorelle Bronte – Chenna / Anna (mise en scene Davide Livermore) Theatro Baretti , Torino et Teatro Goldoni, Venise
2010 La vie Parisienne – Offenbach / Gabrielle
Meung sur Loire 
2010 King Arthur – Purcell/ Cupid, Philadell
Festival' interval d'automne/ Concert de l'hostel dieu
2010/2011 West side story – Bernstein / Maria
Tournée - Solistes Bernard Tetu /Percussions et claviers de Lyon
2011 Le nozze di Figaro – Mozart / Susanna
Théâtre des Feuillants, Dijon
2011 Don Giovanni- Mozart/ Donna Anna
Peniche des arts, Nancy
2011 Carmen- Bizet/ Micaela
Festival Ninon Vallin
2011 Ma vie avec Mozart (d'après et avec Eric Emmanuel Schmitt)
Salle Gaveau, Orchestre symphonique Lyonnais
2012 Ciboulette - Hahn/ Zénobie, Castaglione
Bourse du Travail, Lyon
2012 Faust - Gounod/ Marguerite
Unesco, Orchestre philharmonique international
2012 Rigoletto - Verdi/ Gilda
Fichtelberg, Smetana Philharmoniker Prag
2012 Gala airs d'Opéras
Neunburg, Smetana Philharmoniker Prag
AUSBILDUNG / FORMATION
Conservatoire National Supérieur de Lyon, Opéra studio de l'Opéra des Flandres, Belgique.
WETTBEWERBE / CONCOURS
Concours international des pays catalans, Barcelone -
Premier prix Concours international de Gascogne - Prix Espoir
Concours international Lauri Volpi, Rome - Finaliste
Concours international de Bourgogne - Finaliste
Armel Opera competition, Hongrie, Demie finaliste 2011/2012
Pavla Trefná
Flöte
Ausbildung
Konservatorium in Budweis – Mgr. Petr Reis ( 1992 - 1998)
Südböhmische Universität – Mgr. Jana Zavičáková (1998 - 2001)
Wettbewerbe
Internationaler Rundfunkwettbewerb Concertino Praga 1993 – 1. Platz National,
1. Platz International.
Meisterkurse
Prof. František Malotín – Konservatorium Prag, Mgr. Václav Kunt – JAMU Brünn, 
Brigitte Buxtorf – Schweiz
Zusammenarbeit mit Orchestern

Staatsoper Prag, Philharmoniker Prag, Mozart Oper Prag, Tschechische Kammerphilharmonie, Smetana Philharmoniker Prag, Südböhmisches Theater Budweis
Mit folgenden Orchestern ist sie als Solistin aufgetreten:
Südböhmische Kammerphilharmonie, Südböhmische Kammersolisten.
Seit kurzer Zeit ist sie auch Mitglied des Quintetts der Smetana Philharmoniker Prag.
Aleš Hejcman
Clarinet
Ales Hejcman, was born in Zlin (Czech republic), 9th May 1984
Education
Conservatoire of P. J. Vejvanovsky in Kromeriz (CZ) (1999-2005, Miroslav Siska)
Janacek Academy of Music and Performing Arts in Brno (CZ) (2004-2009, Milan Polak, Vit Spilka)
Conservatorio svizzera italiana in Lugano (CH) (2007 – 2008, Milan Rericha) – as a scholarship holder of swiss government (ESKAS)

Masterclasses
Jiri Hlavac, Vlastimil Mares, Valter Vítek, Igor Frantisak, Karel Dohnal (Czech republic), Sylvia Hue, Michael Raison (France), Jean Philipe Vivier (Luxembourg).

Awards
Concertino Praga 2001 - 1st prize
Carl Ditters von Dittersdorf music competition 2001 (CZ) - 1st prize
Anglo-Czechoslovak Trust London 2003 - 1st prize
Competiton of Conservatoires 2003, Ostrava (CZ) - 2nd prize
Yamaha scholarship holder 2006 - 1st prize (based on competition at Janacek Academy of Music and Performing Arts in Brno)
Clarinet competition in Brescia (Italy) 2007 – final round
Premio Valentino Bucchi Roma 2007 – semifinal round
Cooperation as a member of orchestra
Moravian Philhramonic Orchestra Olomouc
Bohuslav Martinu Philharmonic Orchestra Zlin
Southbohemian Chamber Philharmonic Orchestra Budweis
Chamber Philharmonic Orchestra Pardubice
Czech Moravian Virtuosi
European Union Young Orchestr (substitute)
Bohemian Symphony Orchestra Prague
Prague Symfoniker
Prague Chamber orchestra
Smetana Philharmonic Orchestra Prague
Opera House Liberec

Solo performings with orchestras
Moravian Philhramonic Orchestra Olomouc
Bohuslav Martinu Philharmonic Orchestra Zlin
Janacek Academy Orchestra
Conservatorio svizzera italiana Orchestra
Clarinet concerts written by W. A. Mozart, F. V. Kramar-Krommer, Carl Maria von Weber, Aaron Copland, Gioachino Rossini (Introduction, Theme and Variation), Ondrej Kukal Clarinettino
Jana Vonasková-Nováková
Violin
Born into a musical family in the Czech Republic in 1979, Jana studied at the Prague Conservatoire and in 2000 won the Talent of the Year Competition. This led directly to a scholarship to the Royal College of Music in London where she studied with Professor Felix Andrievsky, graduating in 2005. From 2001 Jana was an Orpheus Scholar and from 2004 a Scholar, supported by a Yehudi Menuhin Award at the RCM.
A top prize-winner at major international competitions, in 2000 Jana won first prize at the International Competition for Young Violinists K.Lipinski/H. Wieniawski held in Lublin, Poland and in 2001 received the European Prize in Strasbourg.
Jana has performed extensively in Europe - in the Czech and Slovak Republics, in France, Germany, Austria, Spain, Italy, Norway, Poland and Belarus. As a concerto soloist she has appeared with the Prague Philharmonic Orchestra conducted by Jirí Belohlávek, the Belgian National Orchestra, European Union Chamber Orchestra, and on tour with the distinguished Czech violinist Václav Hudecek. She is currently a member of the Smetana Piano Trio with whom she recently toured Japan.
Since being selected for representation by YCAT in 2002, Jana has appeared at major venues and festivals throughout the UK including Wigmore Hall, Bridgewater Hall, St. David's Hall Cardiff, Harewood House, the Chester, Leamington, Gower, King's Lynn, Mecklenburg and Prague Spring Festivals. In 2004 she made her BBC Radio 3 broadcast from the Bath Festival. Plans for the 2005/06 season include a YCAT Evening at Wigmore Hall on 31st October and recordings for the Supraphon label with the Smetana Piano Trio.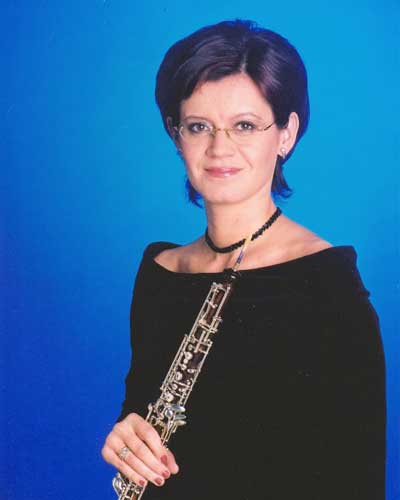 Jana Brožková
Oboe
Jana Brožková is an oboe player who today belongs among the most prominent Czech performers. She initially began her playing under the guidance of her father and continued with considerabsuccess during her studies at Prague.
She won an absolute success and a special award at the Europäischen Musikpreis Zürich 1988.
She took the third prize at the Prague Spring Competition in 1991 and the list of her successes culminates in capturing first prize at the IDRS Gillet Competition 1997 at Evanston, Ill., USA.
She has recorded the most oboe concerts with Czech Radio Symphony Orchestra, where she has held the position of solo oboist. Now she has the same position as a member of Czech Philharmony.
Jana Brožková concentrates intensively on chamber music. She performs with Aflatus Quintet, a woodwind quintet witch has captured the prestigious first prize at the competition ARD Munchen in 1997.
She also has been teaching at the Musical Faculty of the Academy of Performing Arts in Prague.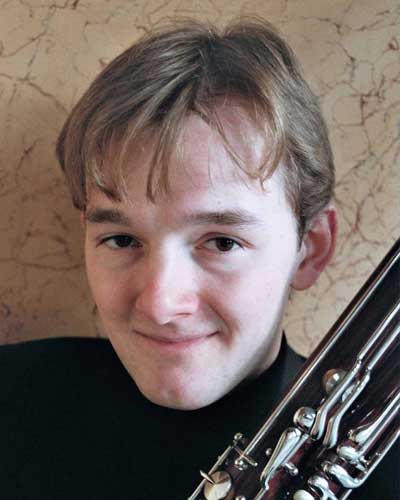 Václav Vonásek
Bassoon
Václav Vonášek (*6.8.1980) comes from Blatná in South Bohemia. He began playing the recorder at the age of six.
Two years later he changed to the clarinet while at music school. At the Conservatoire in Plzen (1994) he studied the bassoon with Ladislav Šmídl and Matouš Křivánek and graduated in 1999. During this time he performed as a soloist with the Conservatoire Symphony Orchestra and the Symphony Orchestra of Mariánské Lázně.
Václav won 2nd prize at the Czech Conservatoire Competition in Ostrava in 1997.
Since 1999 Vaclav has studied at the Prague Academy of Music, with
Professors František Herman and Jiří Seidl.
In 2001 he participated in the Pacem in Terris International wind instruments competition in Bayreuth, reaching the final round.
Also in 2001 he took a part in a masterclass in Semmering (Austria) and won, as a member of a bassoon trio, the Antonín Rejcha
Prize. He also performed on Austrian ORF.
In November 2001 he performed as a member of the Czech Philharmonic Orchestra under Vladimir Ashkenazy during the orchestra's concert tour of the Far East.
His victory in the Czech-Slovak competition "TALENT ROKU 2002" earned him a yearlong visiting scholarship at the Royal College of Music in London, where he studied with Andrea de Flammineis and Martin Gatt. It was also there that Václav was picked as the soloist in a performance of Weber's Bassoon Concerto with the College's Orchestra. He recorded the Weber concerto for Czech Radio, with the Radio Symphony Orchestra.
He won second prize at the 2002 Prague Spring International Competition, along with a prize awarded in the same contest by the Czech Music Fund, for the best performance of a contemporary Czech composition.
In May 2003 he was selected as a finalist in the Young Concert Artists Trust competition in London.
Václav has performed as a soloist in the Smetana Hall, the Dvořák Hall and Suk Hall in Prague and in the Wigmore Hall in London.
In 2003 he appeared at the Prague Spring Festival, the Janáček Festival Ostrava, the Bratislava Music Festival, the International meeting of young musicians Ticino Musica in Switzerland, at the Cheltenham and Leamington Festivals in the UK and a others.
In July 2004 he won first prize at the Gillet-Fox Bassoon Competition (organised by the International Double Reed Society) which took place in Melbourne, Australia.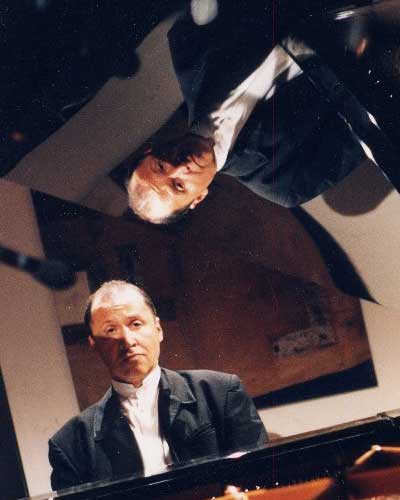 Boris Bloch
Piano
He was born in Odessa and studied in Moskow with Dmitri Bashkirow and Tatjana Nikolaewa .
In 1973 he participated successfully at international piano contests .
Since 1985 he is professor for piano in Essen (Germany).
In 1990 he was honored with the Grand Prix International du Disque Liszt.
For the production of the complete piano works of Modest Mussorgsky, he
was awarded with the price "Excellence Disque".
He also received the Golden Needle of Honour of the International Liszt Society , Vienna and had great responses for Liszt piano soirées and the interpretation of Russian piano music .
His performance of Busonis piano concert with Christoph Eschenbach was recorded live.
Boris Bloch also appeared in Russian television.
He receives many invitations to summer courses and festivals , for example the Rheingauer music festival and at the theater of the "Ermitage" in St. Petersburg .
Currently , he is also a juror at international piano contests .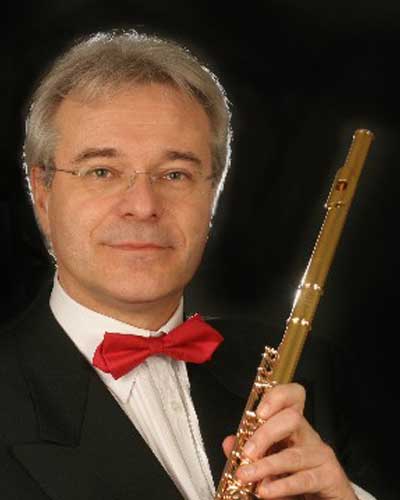 Michel Roublot
Flöte
Jahrgang 1962, studierte Flöte, Kammermusik und Musiktheorie am Konservatorium in Metz  sowie  in Paris (Ecole Normale Supérieur de Musique, Paris) bei Christian Lardé, Jean-Pierre Rampal und Marcel Moyse. 
Erster überregionaler Preis für Flöte & Kammermusik (Westfrankreich).
Erster Preis für Soloflöte (Paris). 
Erster Preis Radio-France. 
Stipendium der Schlumberger-Stiftung.
Ab 1990 Tätigkeit als Soloflötist und zur Leitung von Meisterkursen beauftragt.
Mehrere Konzertreisen nach  Russland, Kanada, Belgien und Italien. 
Seit  2000  Auftritte in Deutschland mit dem  Quintett « Sans Frontière ».
Mitbegründer des Lazaro-Ensembles, Kammermusik, gegründet 2002 Radioauftritte in Frankreich  " RADIO France" und Russland. 
CD- Aufnahme  « Variations, art & virtuosité ».
Filmmusik :   Flötensolo   in    «  Das 5. Element ».  
Parallel Arbeit als Flötenlehrer in Metz; ab 1996 auch in Pirmasens (Kreismusikschule) und Landau (Universität).
M. Roublot wird am 14. März 2008 zusammen mit dem Smetana Philharmonic Orchestra Prague und anderen Solisten in Paris-Gagny auftreten.